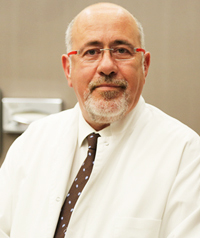 Appointments
Date                Title                Department               Institution
2018- ……..     Professor        General Surgery         Yeditepe Hospital
2017- 2018    Professor        General Surgery         Liv Hospital Ulus
2011- 2017     Professor        General Surgery         AHC (in aff with Johns Hopkins Med)
2003- 2011     Professor        General Surgery         Kirikkale University
2003-2001      Assoc Prof       General Surgery         SSK Ankara Training Hospital
2001-1999      Assoc Prof       General Surgery         Suleyman Demirel University
1999-1998      Assistant Prof  General Surgery         Suleyman Demirel University
1998-1994      Surgeon                                              Hecettepe University
Natinal Memberships:
Turkish Surgical Society,
Society of Colon and Rectal Surgeons  (Turkey)
Turkish Society of Trauma and Emergency Surgery
International Memberships:
American College of Surgeons
European Society of Colo-proctology ( colorectal)
EuroAsian Mastology (bresat)
European Society for Breast Surgeons Specialists  (breast)
European Society of Surgical Oncology (surgcial onclogy)
Qualifications:
1.European Board of Surgery (General, gastrointestinal visceral)
American College of Surgeons
Turkish Board of Surgery
Certified Console Surgeon for "da Vinci Robotic System" (Strausburg)
Certiffied Level II,III Therapeutic 6. Mammoplasty Masterclass (Breast)
Advanced Training in breast cancer. European Academy of Senalogy –Duesseldorf.
Areas of Interest 
Robotic Surgery, Laparoscopic Surgery, Minimal Invasive Surgery
Gastrointestinal Surgery
Colon and rectal surgery
Breast,
He is actively doing a lot of colon and rectal cancer patients by using robot or laparoscopy, and he has also a high volüme of breast cancer patients in whom he has been performing oncoplastic techniques.
Lectures
He peresented over 100 invited lectures and panel discussions in his area of interest in national and international meetings.